Free T2 Corporation Income Tax Return Help with a CRA Liaison Officer (Hybrid Event)
Wed, March 29, 2023, 1:00 PM (AST)
Startup Zone
31 Queen Street
Charlottetown, PE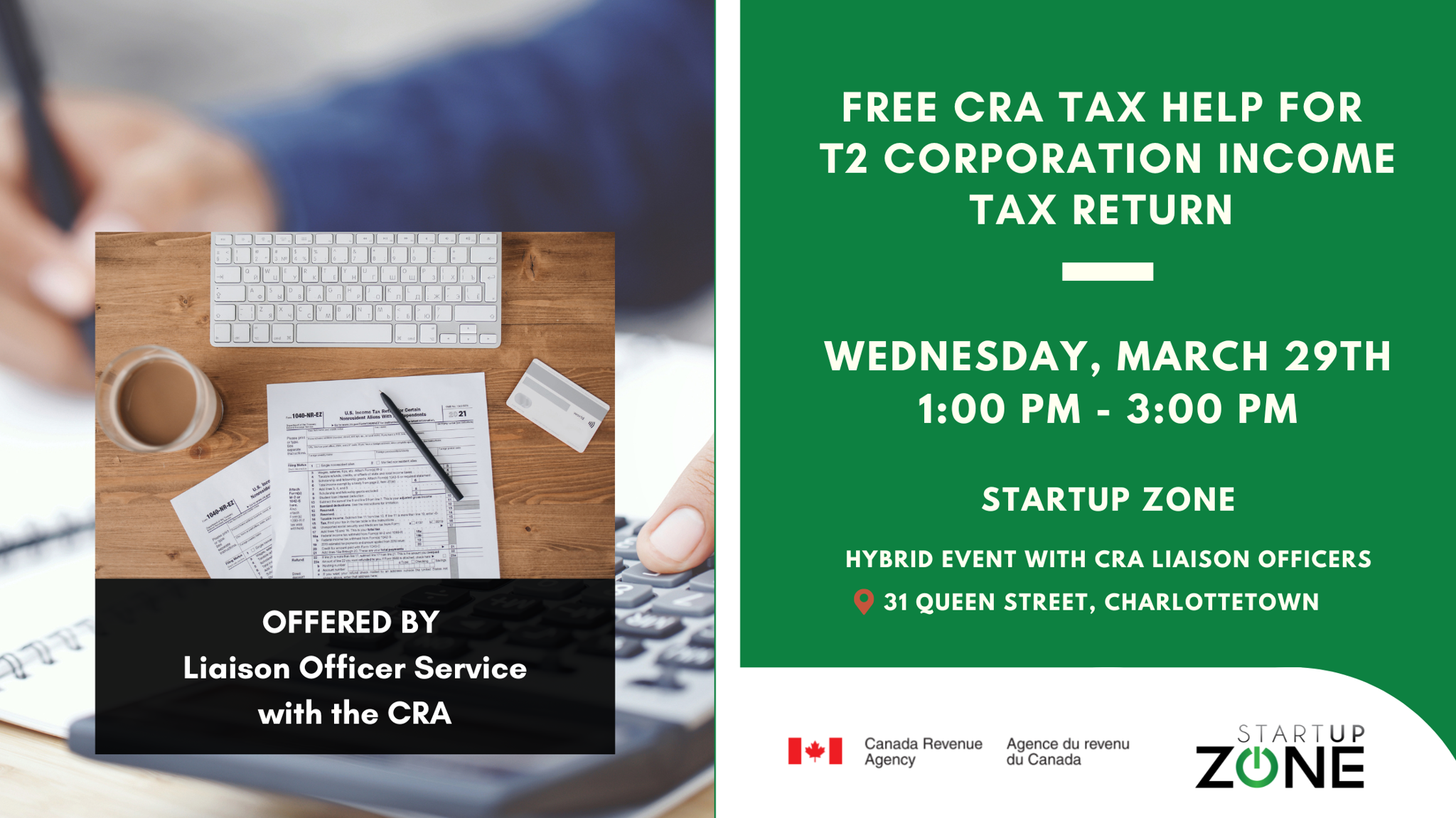 Don't miss out!!! Start Up Zone is hosting a new hybrid event with a CRA Liaison Officer on March 29th from 1pm - 3pm. They will be providing free tax support and guidance for T2 Corporation Income Tax Return.
What to expect?
This will be a hybrid event with a speaker that will be presenting in the Startup Zone. This is a FREE event, and attendees have the option to register for in-person or virtually. It is highly encouraged to attend in-person! It will be more engaging with the CRA Liaison Officer who will be there in-person to help you meet your corporate tax obligations. You will also have the opportunity to network and meet new peers.
Kindly note that attendance requires pre-registration to attend. Make sure to sign-up today to reserve your spot!
Why should you attend?
Wouldn't it be great to know that you are doing things right, before you file your T2 tax returns? Through the Liaison Officer service, the Canada Revenue Agency (CRA) offers free support and guidance to small businesses and self-employed individuals to help you meet your tax obligations. For this webinar, we are excited to welcome Chantal Robichaud.
Want to save time and money?
CRA liaison officers are available across Canada to help ensure that business owners like you understand your tax obligations and are aware of possible tax deductions. Liaison officers will also explain how to avoid common errors that could end up costing time and money. In addition to this session, you can request an in-person visit, or small business groups can request a seminar.
How does it work?
During this hybrid seminar, a liaison officer will cover:
T2 tax return for all Canadian Resident Corporations, including non-profit organizations, tax-exempt corporations, and inactive corporations
Corporate business tax deductions
Common tax errors
Helpful tools and services offered by the CRA
General bookkeeping practices and best practices
If you have questions, please direct them to info@startupzone.ca. 
Hope to see you there!
~ Startup Zone Team
---