The Summit for Island Entrepreneurs and Innovators
Thu, November 2, 2023, 7:30 AM (AST)
Delta Hotel
18 Queen St
Charlottetown, PE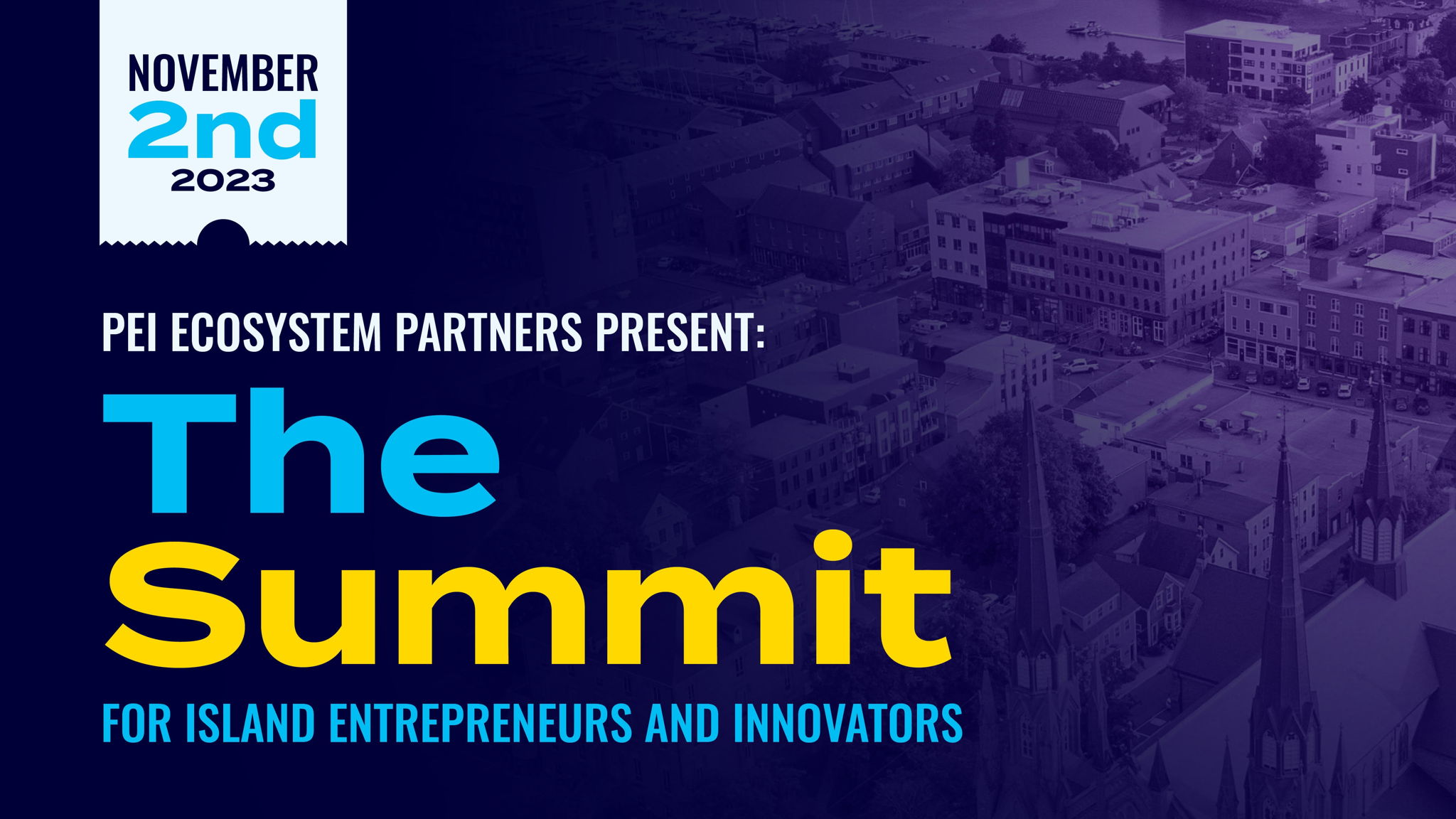 PEI Ecosystem Partners Present:
The Summit
For Island Entrepreneurs and Innovators
-----------------------------------
Join us for a Full-Day Summit for PEI entrepreneurs and innovators at Delta Hotel!
Startup Zone, Food Island Partnership, Emergence, Propel, Innovation PEI and McInnes Cooper have been working together over the past few months to plan The Summit for Island Entrepreneurs and Innovators! This will be a full-day event on November 2nd with refreshment breaks, keynote speakers, concurrent sessions, lunch and a reception. There will also be an opportunity to bundle your tickets and join an exclusive workshop with
Trend Hunter
on November 1st (limited space available).
Our Focus:
Bring together the PEI entrepreneurial ecosystem and provide an opportunity for founders and visionaries to gain new strategies and learn important lessons from seasoned entrepreneurs, ecosystem partners and industry leaders.
Feature renowned keynote speakers who are leaders in entrepreneurship and will provide invaluable insight on their expertise and strategies, all while sharing stories on their success and failures. Make sure to monitor our social media, as we will be announcing the speakers leading up to the event!
This is the perfect opportunity to network and make meaningful connections. Founders, visionaries, and innovators will have the chance to connect with like-minded individuals, mentors, and potential investors – fostering relationships are crucial for startup success! Participants can engage in interactive sessions and grow a network that will serve as the foundation for their startup journey.
We will also be highlighting the PEI ecosystem and showcasing available support. Attendees will be able to learn about available resources, funding, and services on PEI, which is perfect for any entrepreneur aiming to grow in PEI's supportive environment. This is the perfect way to discover services, programs, and partnerships that can fuel your company's innovation and growth on the Island.
Whether you're just starting or scaling up, this event is your gateway to success in PEI's dynamic entrepreneurial community. Don't miss out – join us this November and embark on your entrepreneurial journey with confidence.
---------------------------------------
Itinerary:
Trend Hunter Half-Day Workshop on November 1, 2023
Add-on Experience - Ticket Bundle Available
Includes Workshop & Refreshments
Wednesday, November 1st from 9am - 12pm
The Summit Itinerary on November 2
8:00am - Doors Open
8:30am - Welcome & Minister Greetings w/ Hon. Gilles Arsenault
9:00am - 10:00am: Keynote Speaker w/ Alex MacLean CEO and Founder of East Coast Lifestyles
10:00am - 10:40am:  Refreshment Break & Exhibit Area
10:55 am - 12:15 pm: Concurrent Sessions 
Roundtables w/ Experts & Advisors
Panel Discussion: Entrepreneurial Leaders share their successes and setbacks
Moderator: Lauren Ledwell
Panelists: Peter Crooks, Jason Pearson, Jordan Patterson, Jerry Oriade
12:30pm - 1:30pm: Lunch
1:45pm - 3:00pm: Concurrent Sessions  
Roundtables w/ Experts & Advisors
Panel Discussion: Myth Busting in Entrepreneurship
Moderator: Kathryn Lockhart
Panelists: Charlotte Murray, Julien Robichaud, Derek Latham, Richard Jones
3:00pm - 3:30pm: Refreshment Break & Exhibit Area
3:30pm - 4:30pm: Endnote Speaker w/  Kerry Anne MacDougall, Founder & Partner of Insight Studio
4:30 pm - 6:30pm: Propel Anniversary Networker at Startup Zone
Speakers and sessions to be released leading to the event date.
---