Dave & Jud Gunning live at GVA
Sat, October 7, 2023, 7:30 PM (AST)
Great Village Arts
8729 Nova Scotia Trunk 2
Great Village, NS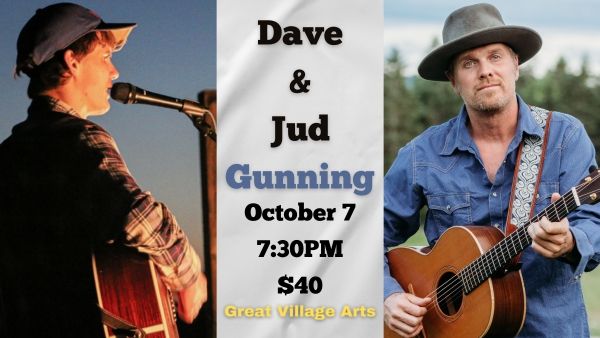 Known for his abilities as a gracious storyteller, Gunning's knack for connecting with audiences precedes the skills and experience he's earned on the road—It is, for him, very much a way of life. Gunning shares the same sort of relationship with music as an eagle does with the sky. From a very young age, music has been Gunning's way of interpreting the world around him, the lens through which he sees it, and the medium by which he engages with his community. 
Join Dave AND his son Jud!
Jud has a genuine love for playing music and has been making a name for himself in the Nova Scotian music scene. With performances at the Stan Rogers Folk Festival, the Pictou Lobster Carnival and the New Glasgow Jubilee under his belt, Jud has captivated live audiences across the Maritime provinces, and has only just begun.
Dedicated to the craft of guitar playing, with an appreciation for artists such as Chet Atkins, Doc Watson, John Allan Cameron, Buddy Holly, Roger Miller, Hank Snow, Stompin' Tom Connors and the Delmore Brothers, Jud Gunning has been building up a strong repertoire of classic songs and instrumentals.
---